Cha Cha's Latin Kitchen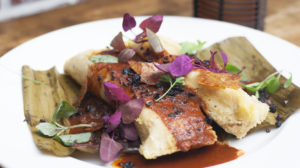 What comes to mind when you think about Latin Cuisine? Immediately, I think of the freshest ingredients and boldest flavors – not just food but an experience that taps into all my senses. Cha Cha's Latin Kitchen is delivering on all those expectations with its innovative Latin inspired menu which expertly adapts the culinary heritage of Mexico and Latin America into a uniquely fresh modern style.
In 2009, Cha Cha's Latin Kitchen Brea was born out of a love and passion for Latin Cuisine by its two founders Don Myers and Peter Serantoni. Both Don and Peter, had a considerable amount of experience in the restaurant business having come up with the El Torrito concept and having played key roles in the success of industry giants such as Roy's. Their vision with Cha Cha's was to provide fresh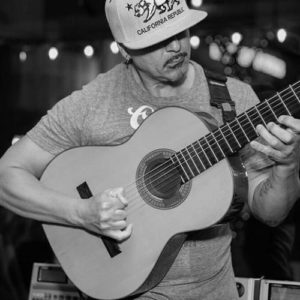 "made-from-scratch" Latin food in a fun atmosphere where guests could watch their dishes being prepared in the open kitchen or enjoy live music in the lounge while sipping some of the finest handcrafted cocktails. Their vision became an instant success and just a few years later in 2017, they opened their second Cha Cha's location in Irvine. There's no doubt that the Cha Cha's concept is a huge success and there will be demand for more to follow.
Ensuring Cha Cha's Latin Kitchen continues to deliver on its founders' vision is the responsibility of the very talented Executive Chef, Joe Martinez.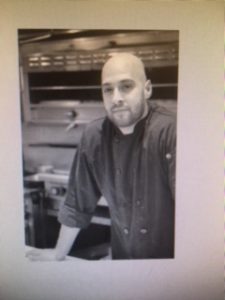 Chef Martinez grew up in a Latin family watching his mother and grandmother cook and remembers always loving how it brought everyone together. It's no surprise that ultimately, he pursued a formal education in cooking, graduating from the School of Culinary Arts in Pasadena. Following graduation, Chef Martinez went to work at the Riviera Country Club and found, that while it was a great experience, he longed for a more family-oriented concept and the ability to cook a greater array of dishes like those he had grown up with. Luckily, after his time at the Riviera Country Club was complete he found exactly what he was looking for at Bistro Pasqual under restaurant owner Christian Delavara. At Bistro Pasqual, just three of them were responsible for running the kitchen and would close in the afternoons to go out and shop for the freshest seasonal ingredients to ensure the food on the menu that night was of the highest quality. Bistro Pasqual offered Chef Martinez the perfect balance of an intimate working atmosphere paired with truly inspired co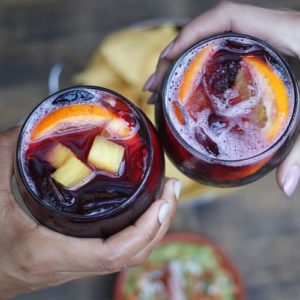 oking. Chef's formal training combined with his natural born passion for Latin cuisine made him the perfect fit to lead the charge in the Cha Cha's kitchen. So, when the opportunity arose to become the Executive Chef of Cha Cha's, Chef Martinez knew it was the right move. Given the natural fit, you'd have to agree.
While, having the vision and the right people to execute the vision is key to a restaurants success, the menu is equally as critical – and Cha Cha's menu doesn't disappoint! Chef Martinez explains that "the menu at Cha Cha's is less afraid than most to use bold flavors…flavors that tend to smack you in the face." In a very good way of course! Whether, it's their innovative Short Rib Enchiladas served open faced and smothered in a rich and vibrant sauce made from the braising liquid or their signature Marinated Grilled Skirt Steak, you can't help but to come back for more… and more and more!
Cha Cha's menu may have changed a bit over the years to stay relevant and to take advantage of seasonal ingredients but one thing that doesn't change is the consistency and quality of the food and service. At Cha Cha's they believe that "to be the best, they must focus simply on what they do best." This means making things fresh in-house daily (like their tortillas), tasting everything that goes out of the kitchen and being consistent with daily routines. Staying on top in a highly competitive industry also means hiring and keeping good people. It's impressive to note that 70% of Cha Cha's staff has been with them from the beginning – very likely due to the strong family-based culture they've created.  Their family-based culture also crosses over into other key relationships outside the restaurant including those with vendors who help them anticipate changes in food costs and other key areas critical to the success of their business. Cha Cha's laser focus on their core values is not only admirable but just plain smart.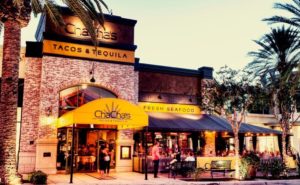 As Cha Cha's continues to grow with two locations and counting, they make their involvement with the surrounding community a top priority. Their strong family culture extends well beyond the walls of the restaurants and into the homes of the communities in which they serve. At Christmastime they do a toy drive for underprivileged kids and invite both the kids and their families into the restaurant for a festive holiday meal and shower them with gifts. With this kind of good will and commitment to the freshest and highest quality food, there's no doubt that Cha Cha's will continue to grow and be a success in any community they become a part of.
To contact Cha Cha's or see what they're doing next go to www.chachaslatinkitchen.com. All of us at Rogers Poultry would like to thank Chef Martinez at Cha Cha's for allowing us to be a part of their journey and for the wonderful insights they provided, which allowed us to write such an interesting and informative article. We hope it's provides some value to our readers and invite all of our customers to participate in our Customer Spotlight. If interested, simply contact your Rogers Sales Associate or call us toll free at 800.889.8280.
Cha Cha's Guajillo Chile Vinaigrette:
Ingredients:
4 ea                    Arbol dry chili, toasted
3ea                     Guajillo whole dry chili, toasted
1 clove               Garlic chopped fresh
3 fl ounces       Balsamic vinegar
6 fl ounces       Olive oil, extra virgin
2 tsp                  Kosher salt
¼ tsp                  Black medium pepper
In a dry pan on low heat toast the chilies until the color darkens slightly. Set aside, allow to cool.
Open the chilies and remove most seeds, place in a blender and add the chopped garlic clove and vinegar.
Blend on medium speed until smooth.
Add oil slowly allowing the dressing to emulsify, adjust seasoning to personal preference.
Set aside at room temperature until ready to use.