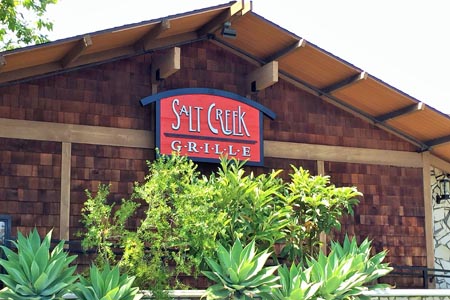 SALT CREEK GRILLE, CHEF SCOTT GREEN
What does it really take to be successful in the ultra-competitive restaurant industry? Chef Scott Green, Executive Chef for the Salt Creek Grille, will tell you it's three key things:
1. Meticulously source only the best ingredients.
2. Stay true to who you are and what your customers expect.
3. Hire a great team of people who truly care about what they do.
Back in 1996 when the Salt Creek Grille was started by founding partners, Tim McCune and Pete Truxaw, their vision was to create an upscale yet casual American themed grill where local friends and family could come relax and enjoy. Today, 20 years later and 5 restaurants later, their vision has become a hugely successful reality. From the moment you walk in the door your senses are peaked by the luring scent of the hardwood grill, the dim relaxed lighting and cozy yet elegant ambience. The Salt Creek Grille is the kind of place you just want to stay and enjoy a while.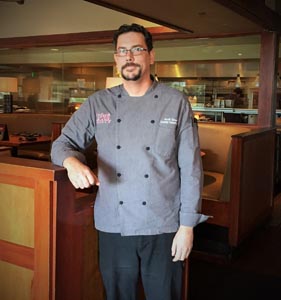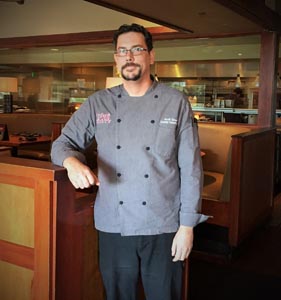 Executive Chef Scott Green joined the Salt Creek Grille in 2006 and is now not only the Executive Chef for 4 restaurants (2 in California and 2 in New Jersey) but one of the managing partners. Chef Green believes that over the years, though he's had to make changes to adapt to important culinary trends and modify the menu to give each dish more "composition and soul," the restaurant has stayed true to its founding principles of giving its customers exactly what they'd expect from a neighborhood restaurant and tavern. From signature dishes like their well-known Mary's Organic Rotisserie Chicken, Smokey BBQ Ribs, Coffee Encrusted New York Steak and Bacon Wrapped Shrimp to their more seasonal dishes like the Cedar Wrapped Salmon, Bucatini Chicken Pasta and Watermelon Salad, you can count on every dish being consistently amazing!
What's even more impressive is that the Salt Creek Grille maintains their unrelenting quality and consistency while serving a rather high volume of customers. The Dana Point location alone does over 100,000 covers per year – all without a catering department! Chef Green explains that "balancing the execution of really great food at a high volume is one of my greatest challenges," but goes on to explain that they're able to do this by leveraging both their culinary and operational expertise to operate optimally during even the busiest times. Every dish has been well thought so it's both balanced and unique and it flows through the kitchen with ease no matter how busy the restaurant gets.
Chef Green also explains that maintaining this relentless consistency is made possible not only by being "meticulous about sourcing and execution," but also by maintaining strong relationships with vendors (whom he feels are just as important as his guests) and by rewarding the efforts of their incredible staff. And, to keep his staff happy and the morale high, it's not uncommon for Chef Green to reward the staff for things like 5-Star Yelp reviews. With this type of positive work environment, it's no surprise they have so many loyal hardworking employees – and so many 5-Star Yelp reviews!
When you combine Salt Creek Grilles vast culinary contributions over the last 20 years along with their charitable contributions, including their community involvement with organizations such as the Boys & Girls Club and their support of the Jessie Rees Foundation (www.negu.org), I'd say Chef Green and everyone at the Salt Creek Grille have found the perfect recipe for long-term restaurant success!
All of us at Rogers Poultry would like to thank Chef Green and everyone at the Salt Creek Grille for their ongoing support as a loyal customer and for the wonderful insights they provided allowing us to put together such an interesting article. We hope it's provides value to all who read it and we invite all of our customers to participate in our Customer Spotlight. If interested, simply contact your Rogers Sales Associate.
To learn more about the Salt Creek Grille visit their website at www.saltcreekgrille.com
SIGNATURE SALT CREEK GRILLE RECIPES:
SALT CREEK GRILLE ROTISSERIE HALF CHICKEN
Yield: 2 portions
1 each 3 lb whole chicken WOGS, Mary's
8 cups Brining liquid, or enough to cover the chicken
¼ cup herb seasoning
2 Tablespoons oil blend

In a large lexan combine the chickens with enough brine to cover for one hour. Remove and pat dry with a towel. Generously rub each of the whole chickens with 2 Tbsp. of the herb seasoning ½ Tablespoon of oil blend. Truss each of the chicken and tuck back the wing tip. Place in the rotisserie basket and cook at 350 degrees for approx.1 hour and 15 minutes or until it reaches an internal temp of 155 degrees. Remove from oven and let cool enough to handle then split the bird down the center and remove the back bone, breast bone, wish bone and thigh bone.
HERB SEASONING
Yield : 4 cups
1 cup  Herbs de Provence
½ cup ground black pepper
1 cup kosher salt
¼ cup red pepper flakes
½ cup granulated sugar
¾ cup paprika
Combine all ingredients and reserve for use
CHICKEN HERB BROTH
Yield : 2 cups
2 cups chicken stock
1/2 Tbsp. chopped fresh garlic
1/2 Tbsp. chopped shallots
¼ cup white wine
1/2 cup chopped parsley
1 Tbsp. oil blend
Cornstarch slurry, to thicken the sauce
Salt and pepper to taste
Saute the garlic and shallots in the oil until translucent and deglaze with the white wine then reduce by 1/2. Add the chicken stock and bring to a simmer. Add the cornstarch and simmer stirring occasionally. Once the jus has slightly thickened remove from heat and strain through a chinois. Return to low heat and add the parsley and season with salt and pepper to finish.
OVEN ROASTED BRUSSELS SPROUTS
YIELD: 1/3 PAN OR 16 ORDERS
5 lbs. brussels sprouts, stems trimmed and quartered
4 ounces oil blend
1 lb. shallots, sliced into thin rings
3 ounces butter, clarified
4 oz. butter, whole unsalted
½ cup white wine
6 ounces kale, shredded (8 cups)
½ cup parsley
1 Tablespoon thyme, chopped
3 Tablespoons salt, kosher
1 Tablespoon black pepper, ground
Toss the brussels sprouts with the oil blend, salt and pepper and spread out on a sheet tray then roast in a 350 degree oven for about 10 to 12 minutes. In a large saute pan over medium heat caramelize the shallots with the clarified butter until soft then add the whole butter and melt. Deglaze with the white wine and reduce the liquid by half. Pour the brussels sprouts into a large mixing bowl and toss together with the shallots and shredded kale. Then season with herbs and check seasoning on salt and pepper.
HALF CHICKEN LINE PICKUP
Yield: 1 portion
1 each half chicken, herb roasted or rotisserie (rib cage, wishbone and thigh bone removed)
8 oz. oven roasted brussels sprouts
3 oz. herb jus
Place the Oven Roasted Brussels Sprouts mix in the center of a large pasta bowl. Cut the chicken on an angle where the breast and thigh separates. Lean the chicken up against each other on top of the brussels sprouts and ladle the sauce over the center.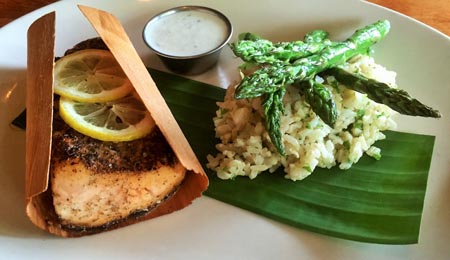 SALT CREEK GRILLE CEDAR WRAPPED SALMON
1 PORTION
1 each 7 ounce salmon fillet, 1 ½" thick, skin off
1 piece Cedar Paper 8" x 8"
½ Tablespoon Za'atar seasoning (thyme, oregano, sesame, salt, sumac)
½ Tablespoon olive oil blend
2 each slices of lemon 1/8" thick
2 pieces Butchers twine, 8" long
1 cup Citrus Brown Rice
6 each pieces Asparagus, seasoned and roasted
2 Tablespoons Yogurt Cucumber Sauce
1 piece banana leaf, cut into a rectangle, dipped in water

Soak the cedar paper in water for about 10 minutes. Season the salmon with the Za'atar and lightly mark the fillet on the mesquite grill on both sides. Put down the butchers twine on a flat surface spaced out about 2" apart, and then place the cedar paper on top of the twine. Place the salmon fillet in the center and top with the sliced lemons. Wrap the salmon and tie together with the twine then place in a 450 degree oven for about 6 to 8 minutes. Allow the fish to rest for a couple minutes then cut the twine off the cedar wrap. Arrange the banana leaf on the center of a large oval plate then place then place the fish, citrus brown rice, asparagus and yogurt cucumber sauce on top of the banana leaf.
YOGURT CUCUMBER SAUCE
Yield: 8 cups
8 cups plain Greek yogurt
1 cucumber, peeled, seeded and pureed until smooth
3 Tablespoons lime juice
2 Tablespoons Kosher salt
1 teaspoon black pepper, ground
2 Tablespoons Za'atar seasoning
2 Tablespoons parsley, chopped
Peel, seed and puree the cucumber in a robot coupe and using a whisk combine thoroughly with the remaining ingredients. Check seasoning and adjust if necessary. Reserve chilled for service.
CITRUS BROWN RICE
YIELD: 1/3 PAN OR 32 PORTIONS
16 cups brown rice, cooked, prep
2 cups chopped parsley
1 cup oil blend
3 Tablespoons lemon zest, finely chopped
2 Tablespoons salt, kosher
2 teaspoons black pepper, table grind
Heat the cooked rice through in the steamer then combine with the remaining ingredients.