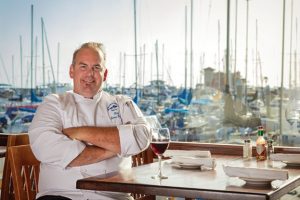 BLUEWATER GRILL, CHEF JASON MAZUR
It's not often you find a restaurant so completely dedicated to the quality of what they serve that they commission their own swordfish harpoon boat to ensure they can personally source the finest quality seafood. Such is the case with the Bluewater Grill restaurants. The Bluewater Grill has its own fishing vessel called the Pilikia with the sole purpose of ensuring the restaurant can offer its customers the finest and freshest seafood available. I call that dedication!
With that kind of passion and commitment, it's no surprise that the Bluewater Grill is celebrating its 20th year in business. Established in Newport Beach, California in 1996, by partners and still current owners Rick Staunton and Jim Ulcickas, Bluewater Grill has grown into a family of seafood restaurants committed to serving pristine quality seafood, sustainably caught and classically prepared with a modern twist. And, if they're not catching the fish themselves, they only purchase directly from fisherman at the peak of quality and freshness.
Ensuring the legacy of the Bluewater Grill is upheld, is the job of Executive Chef Jason Mazur. With 8 locations, all in competitive resort communities and all offering more than 40 varieties of seafood, this is no simple task. However, Chef Mazur is definitely the perfect man for the task. With an extensive culinary background in several high profile restaurants such as McCormick and Schmidt's, Neiman Marcus and the Original Fish Company, and as a local of Orange County himself, Chef Mazur knows exactly what his customers want – fresh local fish at a reasonable price with a modern New England twist. This might sound fairly straight forward but it's anything but simple. To execute and deliver the food his customers have come to expect means Chef Mazur must master not only menu development and execution but spec adherence, food/labor costs, menu updates and the many other details of running a highly successful kitchen. That's no small order but Chef Mazur does it with ease.
With the recent opening of Bluewater Grill on Catalina Island, Chef Mazur has begun what he calls a "Modernization" of the restaurant family. Essentially, he plans to continue to offer the same quality of food his customers have come to expect but elevated in a way that also attracts a "younger, savvy foodie type." Signature dishes such as the Chipotle Blackened Swordfish and Whole Lobster Clam Bake (recipes below) are perfect examples of this unique menu elevation.
Chef Mazur explains that he's been able to do all this and keep the menu pricing in-line by focusing on what really counts – "THE FOOD!" The formula, $.70 of every dollar goes to food vs. alcohol and finding the right balance between what his long-term customers have come to expect while also offering new menu features to attract an all new kind of customer.  Practically speaking, it means knowing for example that his customers at the original Newport Beach location want "a less constructed more traditional plate presentation" while customers at some of the newer locations, like Catalina and Coronado, want a "tighter more modern plate presentation (stacked food)." Understanding this diversity and then successfully navigating and managing it, is exactly how Chef Mazur ensures the legacy of this fine establishment will continue on.
The incredible success of the Bluewater Grill is truly no surprise. It's obvious from the minute you walk into any Bluewater Grill location that there's this passion for providing only the best seafood and customer service. It starts from the very top with the owners and a good deal of management being avid fishermen themselves, and trickles down through every aspect of the restaurant from the front to the back of the house.  Everyone, is friendly and knowledgeable and it's never hard to find the Chef and/or manager on the floor making sure that the customer has the very best service and experience possible. It's truly a well-run ship! Additionally, the impact they've had and continue to have on the community with their extensive support of the Susan G. Komen Foundation (www.komen.org), raising over $700,000 at one event alone in 2016, puts them in a league of their own! It's no wonder the community continues to embrace and support their growth.
Success seems apparent for Chef Mazur and the Bluewater Grill and we're confident that they will continue to successfully change and grow in their highly competitive market. We look forward to being a part of their journey for years to come!
To contact the Bluewater Grill go to www.bluewatergrill.com. All of us at Rogers Poultry would like to thank Chef Mazur and the Bluewater Grill for their ongoing support as a loyal customer and for the wonderful insights they provided allowing us to write such an interesting article. We hope it's provides some value to our readers and invite all of our customers to participate in our Customer Spotlight. If interested, simply contact your Rogers Sales Associate or call us toll free at 800.889.8280.
SOUGHT-AFTER BLUEWATER GRILL RECIPES:
Chipotle Blackened Swordfish
7oz Swordfish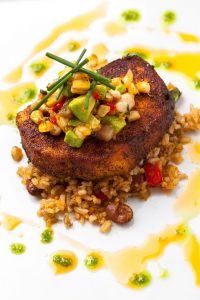 2oz Corn Avocado Relish
1.5c Chipotle Rice
1Tbs Blackening Spice
1oz 90/10 Blend
1oz Chive oil
1Tbs Tomato Oil
Italian Parsley (chopped)
Entrée Plate
Method:
1)    Heat oil in saute pan, coat Halibut with blackening spice and cook to medium
2)    Place rice in middle of plate, put cooked Halibut on top of rice and top with corn avocado relish
3)    Put chive oil and tomato oil around rice
4)    Garnish with chopped parsley
Chipotle Dirty Rice
Rice:
8C Jasmine Rice
12C Chicken Stock
16oz Butter (melted)
1TBS Black Pepper
1)      In a large pot put all ingredients in and bring to a boil
2)      Turn heat down to low and let cook for 15 minutes or until liquid is absorbed
3)      Take off heat and let completely cool
Veg Spice mix:
4ea Green Bell Peppers (medium dice)
4ea Red Bell Peppers (medium dice)
12oz Red Onion (medium dice)
1bnch Cilantro (chopped)
3tsp Chipotle Powder
4tsp Cumin (ground)
2TBS Paprika
4oz Butter
1) In a sauce pot add butter, bell peppers, red onion and cook for 7 minutes or until veg is soft on medium heat
2) Add in all spices, cilantro and mix together
3) Completely cool mixture in fridge
Cooked Rice (above recipe)
Spice Mix (above recipe)
4# Calico Beans (cooled)
1)      Make sure all ingredients are chilled
2)      In a large bowl mix above ingredients together gently until well incorporated
3)      Store in fridge with lid, label and date
Roasted Corn & Avocado Relish
3ea Avocado (small dice)
8ea White or Yellow Corn
8oz Red Onion (fine dice)
5oz Red Bell Pepper (fine dice)
2oz Garlic (minced)
5oz Olive Oil
5oz Red Wine Vinegar
2ea Jalapeno (minced)
1bnch Cilantro (chopped)
1tsp Kosher Salt
1)    Shuck corn and roast on grill, let cool
2)    Put jalapenos on grill until skin is charred, let cool
3)    Cut corn off of the cob, peel and remove seeds from jalapenos and dice
4)    Mix all ingredients together in bowl
5)    Taste and adjust seasoning if needed
6)    Store in refrigerator covered
Clambake
1ea 1.25# Maine Lobster (cooking below)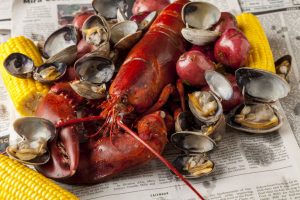 3oz Coleslaw
4ea Red Potatoes
1ea Yellow Corn (shucked, cut in half)
8oz Venus Clams or Manila Clams
3oz Butter (melted)
1ea Lemon Half
Method:
1)    In a small stock pot place water, salt, potatoes and bring to a boil then reduce to a simmer. Cook potatoes for 8 minutes then place corn in same pot to cook for additional 7 minutes. Take out of water and set aside
2)    Place the clams and 10oz of the potato corn water into a covered saute pan and bring to a boil. Cook until clams open.
3)    Season potatoes and corn with butter, salt and pepper
4)    Place lobster, clams, potatoes, corn, coleslaw, lemon and butter on plate and enjoy
Lobster Poaching Liquid and Cooking
1ea 1.25# Maine Lobster
1ea Yellow Onion (large dice)
1ea Carrot (peeled, large dice)
4ea Celery Stalk (large dice)
1T Whole Black Pepper
1T Kosher Salt
2ea Lemon (sliced)
Method:
1)    Add all ingredients except lobster into large pot of water, bring to a boil and simmer for 30 minutes
2)    Carefully place lobster in boiling water for 9 minutes
3)    Take lobster out of water and set aside until ready to plate