DODGER STADIUM, CHEF RYAN EVANS
Th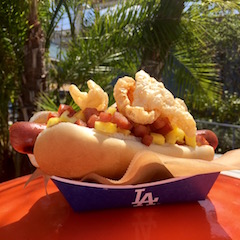 e food culture at Dodger Stadium is about so much more than the infamous "Dodger Dog." When you really get behind the scenes of this iconic LA landmark it becomes clear that besides offering one of the most sought-after hot dogs in the country, they offer a host of other mouthwatering food that rivals some of the finest restaurants. Don't get me wrong, nothing beats a tried and true Dodger Dog on a sunny afternoon but some days you just want to change it up.
Behind Dodger Stadiums innovative and diverse food culture is none other than Levy Restaurants. Levy is a Chicago based Food Management company well known for their passion and expertise in providing top-notch foodservice to large venues across the country. Their local presence includes Dodger Stadium, Staples Center and The Forum to name just a few. What's truly impressive, is that this large national company has somehow figured out how to provide the creative, consistent and hands on service you'd think only a much smaller company could successfully deliver. Perhaps, this is because Levy believes success is achieved by approaching each client relationship as an equal partnership and being as invested in the success of the client as the client itself. And, maybe more importantly they truly consider
themselves one big family. It sounds so simple but this corporate-wide philosophy is a game changer, creating an invaluable synergy between every Levy employee at every level and at every location across the country.
Ensuring the unique Levy culture is successfully implemented at Dodger Stadium is the responsibility of none other than Executive Chef Ryan Evans. However, Chef Evans' culinary journey didn't start there. Long before taking the helm at Dodger Stadium, Chef Evans grew up in a tight-knit family where recipes were passed down from one generation to the next and cooking and eating were done together. So, when Chef Evans decided to go to culinary school in lieu of pursuing a career in civil engineering as initially planned, it seemed like the natural thing to do. After completing his Le Cordon Bleu Arts Degree in Pasadena, Chef Evans began his career at the Marriott Desert Springs. After five years and receipt of several prestigious awards at the Marriott he transitioned into the world of sports and entertainment. Staying true to his passion for running premium restaurants he went on to elevate the culinary experience at some of the country's finest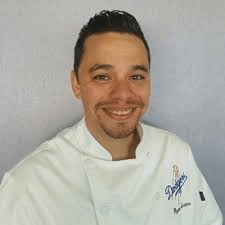 stadiums including that of the Anaheim Angels, Seattle Mariners and San Francisco 49ers!
Fast forward to August 2015 and Chef Evans joined Levy. In pursuit of finding a better work-life balance, Chef Evans knew Levy's strong family based culture combined with their food management expertise in sports and entertainment was the perfect fit. Interestingly, his first assignment wasn't at Dodger Stadium but at College Station Texas for the Texas A&M University grand renovation and reopening. After all, it was the end of baseball season for the Dodgers and his new Levy family needed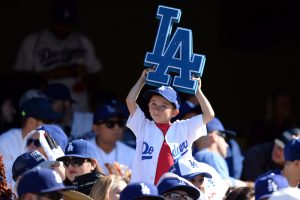 him in Texas – so Texas is where he went. Now, if that isn't a testament of a corporate culture that supports each other like family, I don't know what is! Aside from his primary role as Executive Chef for Dodger Stadium, being a part of Levy has given Chef Evans a breadth of culinary experiences serving at the Staples Center, the T-Mobile Arena, Oregon State University, the NBA Finals at Oracle Arena, the 142nd Kentucky Derby, the Grammys and the LA Dodgers' 2016 NLDS and NLCS.
Chef Evans tak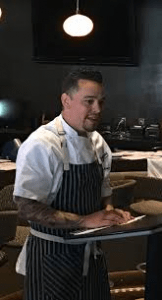 es considerable "pride" in his family at Levy explaining that they "are diligent about hiring only the best corporate chefs to spearhead R&D as well as, push the junior chefs to be their absolute best." This along with Levy's sincere dedication to be "cutting edge regional chefs and staying on top of the latest food trends" ensures them the competitive edge needed to continue to be industry leaders. And, being on top of their craft is an absolute must, as the number of menus and subsequent menu diversity at Dodger Stadium is almost incomprehensible.  At the premier clubs alone you're talking about 82 menus multiplied by 3 (246 menus!) as each club has its own unique menu and each a new menu for every game! Add to that the countless number of concessions with their own various menus and you have access to about any kind of food you could possibly imagine. From countless versions of the Dodger Dog to fresh fish and premium steaks to stadium style comfort food with a local twist, Chef Evans and his team have made sure their customers are as big a fan of the food as they are their baseball team!
Speaking of teams, Chef Evans has quite the all-star team consisting of three Executive Sous Chefs and one Senior Sous Chef. Each has a different area of responsibility but all work together to make sur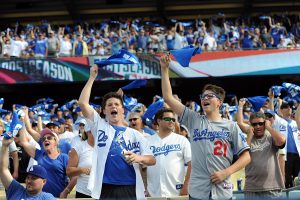 e the food and the experience are consistent and of the highest quality. And, because Levy strives to deliver this same consistent and exceptional experience at all their stadiums nationwide, about 80% of their menu is based on a corporate 'Core Menu' and about 20% tailored to the preferences of the local market. The goal of this proven formula says Chef Evans, is to "give fans the same great food they've come to expect when visiting any Levy stadium nationwide but with added local flare." At Dodger Stadium that equates to a concessions menu based primarily on the tried and true corporate 'Core Menu' and premier club menus based totally on the creativity of Chef Evans and his team. They have a lot of fun creating new menu items, especially those built off the famous Dodger Dog, which almost always gets inspiration from the visiting team (e.g. Colorado Chili Dog). Now, I call dedicating a hot dog to the visiting team just plain good sportsmanship!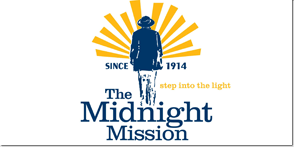 Serving the surrounding community is also a top priority for Chef Evans. His team prides themselves on their partnership with the Midnight Mission (www.midnightmission.org) in LA, which offers paths to self-sufficiency for men, women and children who have lost direction. Chef Evans and his team donate food after every single game to the Mission in effort to do their part in helping those in need.  They're also working with Food Finders to continue to find more ways to compost and recycle and give back.
I have no doubt that Chef Evans and his team will continue to elevate the culinary experience at Dodger Stadium and exceed all our expectations of what stadium food should look and taste like. As Dodger fans ourselves, all of us at Rogers Poultry wish them the best of luck and look forward to sharing the journey and to our next meal at Dodger Stadium!
To contact Chef Evans or see what they're doing next contact ryevans@levyrestaurants.com. All of us at Rogers Poultry would like to thank Chef Evans and Levy for allowing us to be a part of their journey and for the wonderful insights they provided, which allowed us to write such an interesting and informative article. We hope it's provides some value to our readers and invite all of our customers to participate in our Customer Spotlight. If interested, simply contact your Rogers Sales Associate or call us toll free at 800.889.8280.
THE DODGER BURGER – RECIPE SPOTLIGHT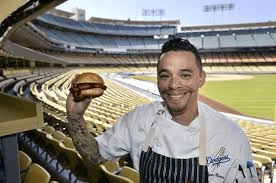 Ingredients:
Dodger Blend 5.33oz
4″ Hamburger Bun
Dodger Dog
Caramelized Onions
Budweiser BBQ Sauce
Beer Battered Jalapeno
Tomatoes
Salt
Pepper
Assembly:
Cook your patty with salt and pepper (to taste)
Slice Dodger Dog in Half
Sauté onions until caramelized
Make a beer batter with your favorite beer and batter and fry fresh Jalapeno rounds
Slice tomatoes
Top it off with a choice of your favorite Budweiser BBQ Sauce.