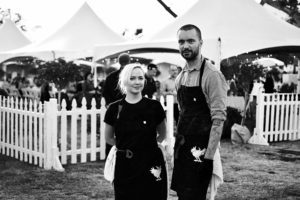 HOWLIN RAYS, CHEF JOHNNY ZONE
Nashville Hot Chicken is more than just southern fried chicken – it's a culture. It's all about people, their love for food and sharing that love. Lucky for all of us, Chef Johnny Zone and his wife Amanda have brought that culture and their passion for fried chicken to LA with their wildly popular restaurant Howlin Rays.  As a husband and wife team with roots in both Nashville and LA, Chef Johnny and Amanda bring a fresh perspective to this traditional southern food culture.
Chef Johnnys resume is as vast as it is impressive having worked professionally under some of the best chefs in the world including Thomas Keller at Bouchon, Gordon Ramsey at London, and Nobu Matsuhisa in LA – not to mention running his own French Bistro. With all that experience in fine dining you might think he would stick to that style of cooking – wrong. In 2014, during a Stage at Sean Brock's restaurant Husk in Nashville he was introduced to Nashville Hot Chicken by another local chef and found his true calling – "It was instantaneous love." This was the moment that he and wife Amanda knew they must bring this unique food culture back to LA in what ultimately became the birth of the Howlin Rays Hot Chicken Tour.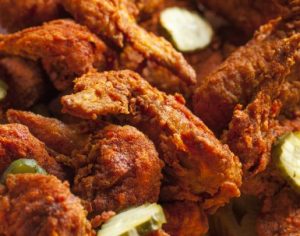 For six months, The Howlin Rays Hot Chicken Tour introduced their version of Nashville Hot Chicken, via a food truck, to LA one stop and one customer at a time. The food truck allowed them to explore interest in the concept and see first-hand their customers' response to this traditional southern dish. The feedback was overwhelming and the lines were long as customers feel in love with Nashville Hot Chicken just as Chef Johnny and his wife had. Besides allowing them to get a real pulse on the market, The Hot Chicken Tour helped pole vault brand awareness for Howlin Rays, which ultimately made the opening of their first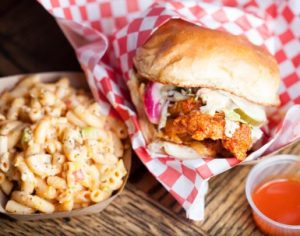 location in China Town, just six months later, an immediate success.
The menu at Howlin Rays is what Chef Johnny calls "tight." They keep to a "traditional hot chicken shop menu" and "maintain great product circulation and authenticity" (think fewer and fresher high quality ingredients). And, if you're wondering what makes 'Nashville Hot Chicken' different from other types of fried chicken, such as the more common 'Memphis' or 'Louisiana' style, Chef Johnny explains that it's all in the oil based rub and use of hot peppers. Howlin Rays version of Nashville Hot Chicken honors traditional cuts and fry technique but also reflects the LA food culture with less traditional items such as their ever popular chicken sandwich called simply 'The Sandwich.' And, though the menu is 'tight' it caters to a wide variety of taste buds with 6 fried chicken heat options (all top secret recipes) ranging from "country" (no heat) to "Howlin" (beyond any kind of hot you've tasted) – who said chicken was boring?! What's even more impressive is that Howlin Rays makes all their dishes in house from the collard greens to the macaroni, and they source locally as much as possible. Combine all that culinary goodness with their exceedingly high level of hospitality and it's easy to understand why Howlin Rays is killing it in one of the fiercest restaurant markets in Southern California.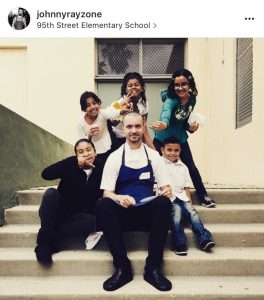 At the center of Howlin Rays philosophy is a strong sense of community and so it's no surprise that Chef Johnny and Amanda take such an active part in theirs. Their strong belief that "food should be honest, taste good, make you feel good and bring friends, families and the community together" resonates in their active involvement in several community programs at local schools, their diligence to use locally sourced ingredients, and participation in industry promoting events such as the annual All Star Chef Classic. Everything they do is geared towards bringing their community and surrounding communities together through food. You have to respect their sense of social responsibility and appreciate the positive impact they make.
The next chapter for Howlin Rays, per Chef Johnny, will likely include the opening of another local restaurant within the year and then branching out to other major cities from there. There's no doubt that the growth will be well planned and guided by their ultimate goal of sharing their love for Nashville Hot Chicken and brining comm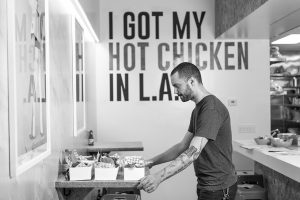 unities together. We certainly look forward to watching them do just this and to being a part of such an incredible restaurant and culture.
To contact Howlin Rays or see what they're doing next go to www.howlinrays.com. All of us at Rogers Poultry would like to thank Chef Johnny and Howlin Rays for allowing us to be a part of their journey and for the wonderful insights they provided, which allowed us to write such an interesting and informative article. We hope it's provides some value to our readers and invite all of our customers to participate in our Customer Spotlight. If interested, simply contact your Rogers Sales Associate or call us toll free at 800.889.8280.