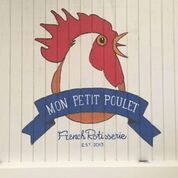 MON PETIT POULET, CHEF MICHAEL DENOUN
Hot on the LA food scene direct from Paris is the French inspired Rotisserie Mon Petit Poulet. And, trust me this is not your average Rotisserie! With a vision of bringing the abundant flavors of a traditional French Rotisserie and a commitment to using only the freshest organic ingredients, Mon Petit Poulet will no doubt win the hearts and stomachs of Southern Californians for years to come.
In 2013, Mon Petit Poulet's founder Yann opened the first Rotisserie on a little island off the North West side of France called "Ile d'Yeu." From there the humble concept grew quickly and three more restaurants were open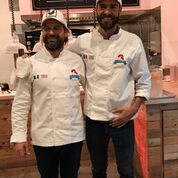 ed in Paris shortly thereafter. In 2014, the current owners of Mon Petit Poulet visited Southern California and fell in love with the healthy lifestyle, the beautiful beaches and the amazing weather. They knew instantly that Mon Petit Poulet's traditional French style of cooking combined with the use of only the freshest organic ingredients would be the perfect fit with the Southern California lifestyle. Mon Petit Poulet would introduce Southern California to all new flavors using decades-old French cooking traditions.  After finding the perfect location in Venice, Mon Petit Poulet opened its first U.S. based restaurant in January 2017.
At the helm of Mon Petit Poulet in Venice is executive Chef Michael Denoun. Having started his own restaurant at the age of just 21 years old and having no formal culinary training, self-taught Chef Michael credits his grandmother for teaching him all of what he knows about cooking today. Certainly, Chef Michael's true love for cooking and his deep rooted traditions are a key part of what makes Mon Petit Poulets food so full of heart and so incredibly satisfying. And, just as their culinary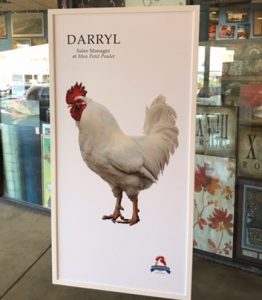 traditions run deep, so does their loyalty to their people and those who have helped them achieve success. At the Venice restaurant you can't help but to notice some rather large eye catching posters of various kinds of Chickens with a name prominently written at the top of each. Chef explains, that these posters are a tribute to "those that have helped them get where they are today" and include everyone from the current management team to the graphic artist that helped them develop their logo. In fact, C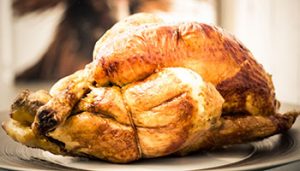 hef Michael, explains that it was actually a friend from LA that initially inspired the idea to bring Mon Petit Poulet to Southern California. Today, that friend "Darryl" is the sales manager of the Venice location (with his own poster of course!) and is an important part of their team. Now, I'd say that's the perfect recipe to creating a winning culture!
The cooking at Mon Petit Poulet leans towards a more traditional French style and is also very simple, healthy and full of natural flavor. By intentionally keeping the menu simple Chef Michael says "this allows them to prepare everything from scratch daily using only the freshest ingredients."  They believe for example that if they prepare green beans, or as the French call them "haricots vert," then the green beans should be the star of the show and all other ingredients should serve only to enhance their natural flavor. Keep it simple, fresh and clean. Because of this Chef Michael doesn't use butter or milk in his recipes and instead prefers to use olive oil and fresh herbs to enhance the natural flavors of his dishes.  Chef also only uses organic ingredients including Mary's Organic Air Chilled chicken (the absolute best chicken you can get) and an array of fresh organic vegetables. It's no wonder their customers are lining up to enjoy one of their many savory Rotisserie chicken dishes l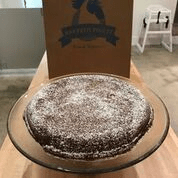 ike the "Chicken Fernand" which is roasted with fresh rosemary and a one-of-a-kind custom spice blend (makes my mouth water just thinking about it), or their ever popular signature "Ratatouille" and who could skip their homemade "Grandmas Chocolate Cake" – sorry, top secret recipe!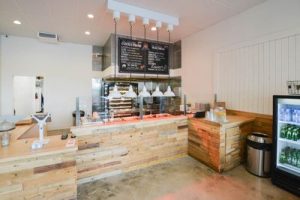 Interestingly, the Venice restaurant concept has a slightly different menu than its brothers and sisters in France. The Venice location was specifically adapted to best fit the LA food culture and offers a much simpler menu with only chicken offered on the rotisserie (vs. other proteins like pork which are offered on the Paris menu) and uses only organic ingredients. It's a true testament of Mon Petit Poulet's commitment to its local customer base and fulfilling their vision to provide an experience that's both true to their culinary traditions but also true to the unique tastes and preferences of the local community they serve.
With a goal of opening another location within the next 2 years and getting themselves even more involved in the surrounding community by supporting local schools and youth programs, these guys aren't slowing down! There's no doubt that we'll see many more great things from Mon Petit Poulet and Chef Michael.
To contact Mon Petit Poulet or see what they're doing next go to www.monpetitpoulet.com. All of us at Rogers Poultry would like to thank Chef Michael and Mon Petit Poulet for allowing us to be a part of their journey and for the wonderful insights they provided, which allowed us to write such an interesting and informative article. We hope it's provides some value to our readers and invite all of our customers to participate in our Customer Spotlight. If interested, simply contact your Rogers Sales Associate or call us toll free at 800.889.8280.