JOEY WOODLAND HILLS
, CHEF JASON KONINGEN
Remember when you were a kid and your parents would say if you're going to do something "Do it right the first time" and "Hard work always pays off!" Well, Founder and CEO of JOEY Restaurants, Jeff Fuller, was listening closely when his parents gave this advice. Today, thanks to that advice, Jeff has created an incredibly successful "premium casual" dining concept called JOEY Restaurants with 37 restaurant locations
across Canada, Washington and California.
In 1992, the very firs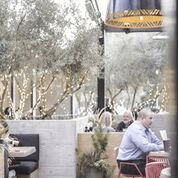 t JOEY restaurant was opened in Canada. And, although this was Jeff Fullers first restaurant he had a rich family history in the restaurant business going all the way back to the 1940's when his father Leroy Fuller, opened his very first restaurant. It was from his family's many successes in the restaurant industry and working in all aspects of the family business that Jeff learned the trade from the ground up. And, once he was ready he took all that knowledge, and his naturally born entrepreneurial spirit, and ventured out on his own journey with the start of JOEY, which has become a remarkable success.
Today, with more than three dozen restaurants (and growing) spanning two countries, you might wonder what the JOEY formula for success is. I would venture to say that it has a great deal to do with an enduring commitment to their people. The JOEY culture is one built around cultivating its people and paving their way to long term success within the company. They believe that learning should never stop and offer several ways their people can continue to enrich their careers through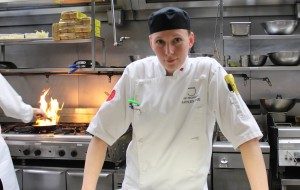 management training, leadership development and business education programs. It's no wonder they've been named one of the best places to work for women in Canada!
The other key component to the JOEY Restaurant Group success lies in their unfailing promise to deliver the "ultimate in casual dining" – think premium "fine dining" quality ingredients at a more palatable price, all in a fun envir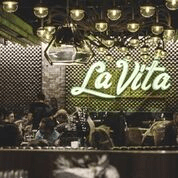 onment! Delivering on this promise at one restaurant location, let alone 37, is no easy task! It relies on an incredibly well run operation and the tireless efforts of a top-notch Product Development Team responsible for testing (and retesting!) absolutely everything before it goes on the JOEY menu. The fact that they've managed to keep 75-80% of the JOEY menus the same location to location goes to show that they truly understand what unifies all their customers – "great food, fun times, and exceptional dining experiences." And, though a few small things may have changed since 1992 with the name, the menu and the design, their commitment to this promise has remained steady. Interestingly, so has their growth!
Chef Jason Koningen, Executive Chef of JOEY Woodland Hills, is the perfect example of the JOEY culture in action. His journey speaks volumes about why they believe so strongly in cultivating their people. Chef Jason's journey is a little different than what you might expect as he was initially planning to have a career in Accounting/Finance not Foodservice and Hospitality! Upon graduating from college, Chef Jason's intended career path in Accounting was forever changed when he took a job working at a Fuller family restaurant called Earls (still very successful with about 70 locations) to pay bills while he looked for a "real job." It was his manager at Earls that changed his course and talked Jason into considering foodservice as his career. Persuaded, Chef Jason agreed to go into their front of the house management training program which required him to work in the back of the house for six weeks. He enjoyed working the in the back of the house so much, and as he says, "building things," that he never left! You see, Chef Jason comes from a family of engineers so "building things" just comes naturally. Combine that with Chef's accounting background and you have a rock-solid foundation for kitchen leadership. Fast forward 8 years, with a Canadian Red Seal Chef designation and tremendous front and back of the house experience, it's no surprise that he was asked to be a part of the new JOEY restaurant concept. Ultimately, this opportunity with JOEY Restaurants led him from his home in Canada to his new home in California where he now plays a key role in expanding the JOEY brand and the family legacy. No pressure!
Chef Jason is off to a great start and JOEY Woodland hills is upholding the impressive JOEY legacy wi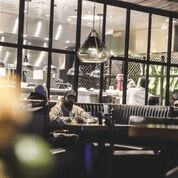 th growing sales and a second location (will be largest to date!) already in the works for Beverly Hills! Much of the JOEY Woodland Hills success says Chef Jason, can be credited to being committed to using the "very best ingredients" and keeping a "hospitality focus" by hiring the right people and training them well – sound familiar? He feels it's more important to hire people who are engaging than technical (this can be taught), and to invest in his "front door service" to make sure he has the right people making the very best impression on customers as soon as they walk in. Customers frequently comment that JOEY Woodland Hills is an "unexpected surprise" with its design forward décor, elevated flavors, great service and fun vibe. Couple all of this with their complimentary champagne taster at the front door and it's no wonder they're killing it!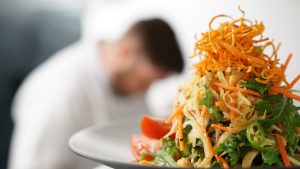 The JOEY menu is characterized by Chef Jason as "Globally inspired American Cuisine" which he says resembles a steak/chop house type menu with some ethnic specialties woven in. From the Katsu Chicken Peanut Salad to the Hand Pressed Cheese Burger and Individually Baked Apple Pie, it's a menu that keeps you coming back! And, in theme with the Fuller Family moto "Do it right the first time," Chef makes sure everything they do is done right the very first time. Case in point, before they introduced sushi on the menu they spent 8 months diligently researching, training and testing to make sure it was flawless. Going forward, Chef isn't slowing down as he plans to continue his quest for even more "origin sourced ingredients" (think Marys chicken and other key ingredients that have a story behind where they come from and how they were raised) and even add a bit of Spanish flare with some subtle but distinct flavor profiles peppered into the menu.
People are the backbone of JOEY so it's no surprise that JOEY Restaurant Group also makes community involvement a top priority and takes great pride in their Cup of Care program. The Cup of Care Program, founded in 2008, pulls together JOEY partners from front of house, back of house, and head office to volunteer their time to wash, peel, and chop over 1,200 pounds of vegetables. In collaboration with shelters across Canada and Washington state, they distribute thousands of cups of soup to people in homeless shelters. And, despite California being a brand new market for JOEY Restaurants, they've wasted no time by partnering with Hope of the Valley Rescue Mission (hopeofthevalley.org) to make a difference in their local community. JOEY participates in dozens of charitable programs, and events each year and invites the community to send donations and sponsorship requests to them via email at community@joeyrestaurants.com. Isn't that what community is all about?!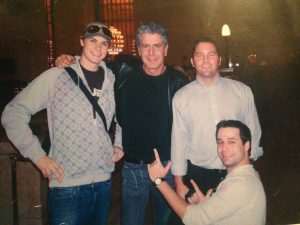 There's no doubt that the JOEY concept will continue to be a force in the restaurant industry and its people and the surrounding communities will benefit directly from their successes. Whether they're cooking in New York City at the James Beard House or talking shop with Anthony Bourdain, all of us at Rogers Poultry wish them the best of luck and look forward to sharing the journey and seeing what's next.
To contact JOEY's Woodland Hills or see what they're doing next go to www.joeyrestaurants.com. All of us at Rogers Poultry would like to thank Chef Jason and JOEY Restaurants for allowing us to be a part of their journey and for the wonderful insights they provided, which allowed us to write such an interesting and informative article. We hope it's provides some value to our readers and invite all of our customers to participate in our Customer Spotlight. If interested, simply contact your Rogers Sales Associate or call us toll free at 800.889.8280.
SIGNATURE RECIPE: JOEY Katsu Chicken Peanut Salad
The Chicken:
                Skin On Half Breast of Chicken from Roger's Poultry
                Organic Flour
                Free Range Eggs
                Crunchy Japanese Panko Breading
We hand flour and bread every single breast daily, and then fry them to create an amazing crisp, crunchy coating. You should see a golden brown crust, with very little oil, and seasoned with freshly cracked pepper and salt.
Carrot & Miso Dressing:
                Heirloom Carrots
                Freshly Chopped Ginger
                Minced Garlic
                Roasted Miso Paste
                Kinjirushi Plum Paste
                Organic Soy Sauce
                Rice Wine Vinegar
                Extra Virgin Olive Oil
All of these lovely ingredients are combined at high speed in a Vitamix Blender to create a wonderful creamy emulsified dressing.
The Salad:
                Heirloom Carrots
                Young Green Papaya
                Crispy Daikon Root
                Sweet Red Onions
These are all cut by hand on a Japanese Mandolin into matchstick size pieces. Then they are mixed with Peppery Arugula, and Toasted Red Skinned Peanuts.
The Garnish:
              Beautifully Sweet Orange Yams
              Vine Ripened Amoroso Tomatoes
              Shaved Serrano Peppers
             Toasted Sesame Seeds
             Freshly Chopped Cilantro.
For the Yams Our Chefs use a "Spiral Slicer" to create long strands of fresh yam every morning. They then cook them until they are perfectly crisp, and season them lightly with sea salt.
Tomatoes are always kept at room temperature, and sliced fresh for every single salad. This ensures theses incredibly juicy and sweet tomatoes are perfect for each and every guest.
Just add 5 individual slices of the shaved Serrano Pepper to add a little bit of heat!